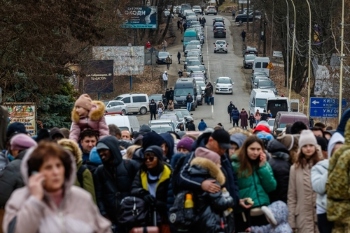 Human trafficking policy experts have urged the Government to ensure that the Homes for Ukraine scheme includes 'rigorous safeguarding measures' to protect refugees.
The UK Government is offering people £350 a month to open their homes to Ukrainian refugees and local authorities are being given £10,500 for every refugee supported in their area.
According to the Department for Levelling Up, Housing and Communities, the latest figure on the expressions of interest in the Homes for Ukraine scheme is 122,305.
The charity Christian Action Research and Education (CARE) welcomed the scheme but warned that it could be abused by people involved in modern slavery.
'The Homes for Ukraine scheme is well-motivated and could benefit a great number of individuals but the logistics of it must be weighed carefully. With large numbers of applications needing to be processed quickly, red flags could be missed in the vetting of potential hosts,' said Lauren Agnew, human trafficking policy expert at CARE.
'Recent statistics from the National Crime Agency estimate there are at least 6,000-8,000 modern slavery offenders in the UK. We can be certain that some of this number will be seeing the Homes for Ukraine scheme as an opportunity to turn a profit at the expense of vulnerable individuals seeking refuge in the UK.'
'Setting refugees up in homes around the UK is not the end of the story. There must be follow-up checks to ensure these individuals are not being exploited. We must remember that refugees are extremely vulnerable. They must not be allowed to fall off the radar,' she continued.
'We urge the Government to put rigorous safeguarding measures in place to ensure one, that homes and other locations offered to refugees are indeed safe, and two that the welfare of refugees is ensured for as long as they need to take refuge in the UK.'