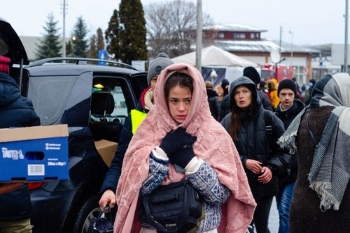 Local authorities are set to receive £10,000 for each Ukrainian refugee welcomed into their area, the communities secretary has confirmed.
Launched today, the new 'Homes for Ukraine' scheme will allow individuals, charities, community groups and businesses in the UK to bring Ukrainians to safety, including those with no family ties to the UK.
The uncapped scheme will enable a sponsor in the UK to nominate a named Ukrainian or a named Ukrainian family to stay with them in their home, or will allow them to offer a separate property.
Sponsors, who will be able to apply online, will be asked to provide homes or a spare room rent-free for as long as they are able, with a minimum stay of six months. They will receive £350 per month.
'The crisis in Ukraine has sent shock waves across the world as hundreds of thousands of innocent people have been forced to flee their homes, leaving everything they know and love behind,' said Mr Gove.
'The UK stands behind Ukraine in their darkest hour and the British public understand the need to get as many people to safety as quickly as we can.
'I urge people across the country to join the national effort and offer support to our Ukrainian friends. Together we can give a safe home to those who so desperately need it.'
Responding to the announcement of the scheme, Cllr James Jamieson, Local Government Association (LGA) Chairman, said: 'The humanitarian crisis caused by the Ukraine invasion is heart-breaking. Councils are ready to help new arrivals from Ukraine settle in the UK and to support communities who wish to offer assistance to those fleeing the devastating conflict.
'Councils will be central in helping families settle into their communities and access public services, including schools, public health and other support, including access to trauma counselling.
'The Government must continue to work closely with councils, the community and voluntary sector and other key local partners to co-design this sponsorship scheme so it can move at pace and scale. We look forward to seeing the full details as soon as possible.'