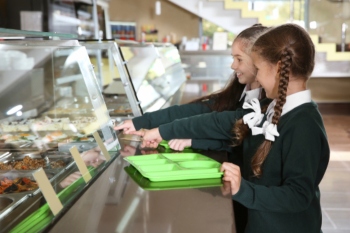 A charity is calling for a major overhaul of public sector food sourcing standards to protect school children and hospital patients from being served a low welfare menu.
The RSPCA said the baseline for the Government Buying Standards benchmark for animal welfare is currently set very low meaning menus may contain eggs from caged birds or chicken imported to lower standards than the UK.
It is calling for food provided in public sector institutions to be produced to higher animal welfare standards.
Chris Sherwood, chief executive of RSPCA, said: 'An overhaul of Government Buying Standards (GBS) is long overdue as the animal welfare rules are baseline at best. It's unacceptable that school children or sick hospital patients may be served food that has been produced to low welfare standards. What's worse, they invariably have no choice in the matter.
'The government made a promise to the public to maintain or improve the UK's high animal welfare standards after Brexit. The government should ensure that its GBS, which even allow products to be imported that are below British minimum welfare standards, should be improved, audited and this crucial loophole closed, otherwise UK producers that are producing to higher standards could be undercut, potentially putting them out of business and leading to a race to the bottom.'