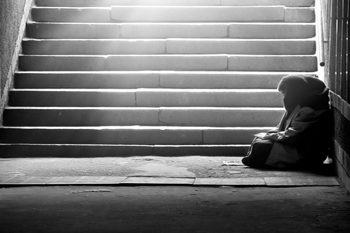 A 55% rise in the number of people sleeping rough since 2010 has been linked to Coalition benefit cuts and welfare reforms.
New statistics published by the Department for Communities and Local Government have revealed 2,744 people were estimated to be sleeping on the streets of England at any one time last autumn, marking a 14% rise on figures from 2013.
Particular concern was raised over the numbers of rough sleepers in London, which climbed by 37% on the previous year in comparison to just a 7% rise for the rest of England. Levels of rough sleeping in the capital have risen by 79% since 2010.
Homelessness charity Crisis linked the rises to Government welfare reforms and the 'legal injustice', whereby many councils were turning increasing numbers of rough sleepers away because they 'are not considered a "priority" for help'.
Jon Sparkes, Crisis chief executive, said: 'These figures show that the law is badly failing people facing homelessness. Welfare reform, benefit cuts and a chronic shortage of affordable homes mean more and more people are coming to their council as homeless. But as the law stands, far too often when single people ask for help, they are turned away to sleep on the street.
'Homelessness is a frightening and isolating experience – the average age of death for a homeless person is just 47. No one should be condemned to these dangers. That's why we're calling on political parties to commit to review how the law protects people from the devastation of life on the streets.'
However the Department for Work and Pensions (DWP) said there was no evidence that removal of the spare room subsidy and reforms to the local housing allowance and benefit cap had resulted in a rise in homelessness.
A DWP spokesman said: 'Homelessness is at one of the lowest levels for the last 30 years and official evaluation does not show a link to welfare reforms - which are focussed on helping people improve their circumstances.'