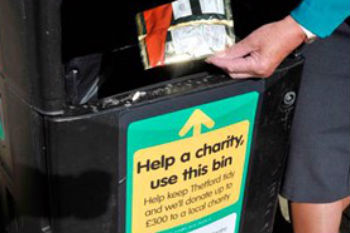 The use of 'charity bins' has successfully reduced litter by an average of 30% in five locations across England.
The Bin it for Good campaign, organised by Keep Britain Tidy, sees more money donated to good causes the more rubbish is thrown in the bins.
The pilot saw litter reduce by an average of 30% in four of the locations, while the reduction in litter was 52% in Prudhoe town centre in Northumberland.
The pilot is now being rolled out in four other locations: Nottingham, Haringey, Sutton and Kettering.
Keep Britain Tidy chief executive, Allison Ogden-Newton, said: "Bin it for Good is a win-win for communities. It cuts the amount of litter on the ground at the same time as supporting local charities.'
A survey by the charity found 71% of people said the campaign made them more likely to put their rubbish in the bin.