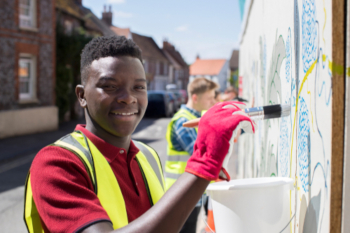 As Defra released its resources and waste strategy earlier this year, hot on the heels of its 25 year environment plan, the Community RePaint network was celebrating 25 years of preventing paint from going to waste – diverting 5.5 million litres of paint from landfill across the UK.
In fact, eliminating avoidable waste by 2050 is a key target of the Government's environment plan and yet paint is often low down on the agenda, despite claims by the paint reuse network that over 50 million litres of reusable paint are wasted every year. That equates to roughly 40 litres of paint wasted in UK homes every 60 seconds.
Counting the cost
For local authorities this wasted paint comes at a cost, adding to kerbside refuse collections or clogging up Household Waste Recovery Centres (HWRCs). The figure becomes even more significant when you consider that it could be reused and repurposed through the network to support low income families, affordable community schemes and projects nationwide.
Over the last 25 years, the Community RePaint network, which is managed by Resource Futures, an independent, non-profit-distributing environmental consultancy, and sponsored by Dulux, has grown from two to over 65 schemes across the UK. The network is currently working in over 27 local authority areas to capture leftover paint from households via their HWRC networks.
Forest Recycling Project – East London
One of the network's most successful schemes, run by Forest Recycling Project, collects over 34,000 litres of paint a year. Collecting from seven HWRCs across five local authority areas in East London, one of the most exciting things about the scheme is where the paint ends up. Last year just under 30,000 litres of their paint was distributed into the community. As well as helping local people transform their homes and community buildings, local street artists are provided with paint for urban regeneration, colouring the lives of the local community and truly putting the area on the map.
Existing paint waste streams
Research from the network suggests that the majority of householders take their leftover paint to a recycling centre, with just over a fifth of householders disposing of paint in their residual waste bins. This provides a huge opportunity to capture this reusable paint through HWRC networks across the UK, removing it from the waste stream and redistributing it into the community.
How the Community RePaint scheme works
Most commonly, relationships between Community RePaint schemes and local authorities are based on the collection of paint from HWRCs at regular, agreed intervals. The scheme will take any reusable paint back to its premises where it is checked and processed ready to be reused. A handful of schemes are actually run by local authorities, where the paint reuse occurs on site. Householders are able to both drop off and collect paint from a container at the HWRC which is managed by the site staff. The network is also open to trialling new models where these two options are not feasible.
Where is the value for local authorities?
Regardless of the partnership model, working with the network to reuse paint from householders has a number of benefits. Partnering with a scheme will:
reduce paint disposal costs,
prevent a valuable resource from going to waste,
reduce the impact of waste disposal,
meet your recycling and waste obligations,
benefit your local community,
support a local reuse organisation,
generate positive stories.
With 25 years in hand, the Community RePaint model is well established, thanks to support from local authorities, community organisations and sponsorship by leading paint retailer, Dulux. What will the next 25 years hold? Hopefully, more schemes to close the gaps in network coverage, putting a lid on the 50 million litres of paint that go to waste annually once and for all.
Will you play your part?
Sarah Burns is Community RePaint network coordinator. Contact Martin Pearse at Community RePaint to discuss how we can help you to set up a scheme in your area.