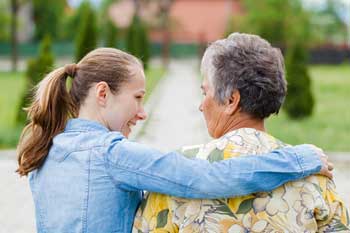 MPs have called on the Government to remove the 'cliff-edge' in the benefit calculation that could see many carers lose their allowance.
Under the current system, the Carer's Allowance — £64.60 per week — is withdrawn in full as soon as carers earn more than £120 a week.
This means that if a carer works additional hours or receives a pay rise they could find themselves worse off.
According to Carers UK, the country's 6.5 million carers contribute £132bn worth of unpaid economic activity to the economy every year.
The Work and Pensions Committee, who published their report on care work today, also noted more than 3 million carers juggle care with paid work.
The committee acknowledged that Universal Credit will remove the threat of a 'cliff-edge', but warned it would be several years before it was fully rolled out.
They recommended that Carer's Allowance should be gradually withdrawn as income rises, in line with the Universal Credit taper system.
'Carers are heroic and undervalued. They are a great untapped resource for our high employment, low productivity economy - and a sorely unrecognised one,' said the committee chair Frank Field MP.
'They contribute hundreds of billions of pounds in unpaid work to our economy which is not counted on any Treasury balance sheet.
'Ensuring work pays and that employers adapt to accommodate caring is not just good for the carers: it is necessary for the whole economy. Government should lead on both practice and policy.'