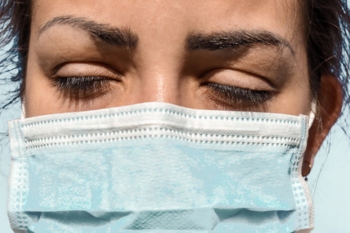 Social care providers were left without adequate PPE at the start of the pandemic, the public spending watchdog has warned today.
The new report from the Public Accounts Committee found many frontline workers were left 'risking their lives to provide treatment and care' as the Government prioritised NHS workers in the first wave of the virus.
It found that while the Government used emergency procurement regulations to procure more than £10bn of goods and services without competition, it failed to be transparent about its buying decisions.
The Department for Health and Social Care wasted hundreds of millions of pounds on unusable PPE, the report said.
Meg Hillier, chair of the committee, said: 'Government had permission to procure equipment at pace and without tendering under the law, but acting fast did not give it license to rip up record keeping on decisions. It did not publish contracts in time and kept poor records of why some companies won multi-million pound contracts. The cost of emergency procurement - billions higher than the equivalent a year before - highlights how both its pandemic plan and supply of essential equipment were inadequate.
'Frontline workers were left without adequate supplies, risking their own and their families' lives to provide treatment and care. We're at a dangerous new phase of the pandemic, in our third national lockdown with no defined end in sight. The Government needs to acknowledge the errors and be better prepared.'
The Local Government Association said the findings demonstrate that social care deserves parity of esteem with the NHS, including on future PPE supply and infection control measures.
A Department of Health and Social Care spokesperson said: 'As the Public Accounts Committee recognises, the Government faced significant challenges in having to rapidly procure PPE at pace in a competitive international market. Thanks to the combined effort of Government, NHS, Armed Forces, civil servants and industry we have delivered over 8.1 billion items of PPE at record speed.
'We have a robust processes in place to ensure PPE meet the strictest safety and quality standards before being distributed to the frontline.'