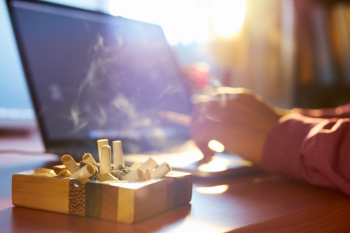 More than one in ten smokers who live with children are smoking indoors more since lockdown, new research has revealed today.
Health campaigners warn that lockdown has increased the number of children exposed to secondhand smoke.
YouGov's COVID tracker shows that 12% of smokers who live with children say they are smoking indoors more than they did before lockdown.
People who live in households that include children are 50% more likely to report being exposed to secondhand smoke since lockdown compared to those without children, it also shows.
Deborah Arnott, chief executive of ASH, said: 'This is an issue of equity. If you live in a high-rise block, taking your smoke outside is much harder than in a semi-detached with a garden.
'We know parents who smoke are trying to quit and reduce the amount they smoke — and we need to make sure they have the support they need to do this.'