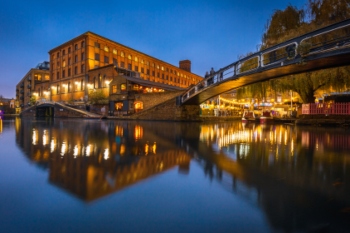 The world's densest air quality sensor network, which aims to fundamentally transform how air pollution is monitored and managed, will be installed in the London borough of Camden this summer.
Air quality specialists AirLabs will install 250 advanced AirNode air quality sensors across the borough, in partnership with Camden Council and The Camden Clean Air Initiative, an air pollution action group in the borough.
The network will provide at least 100x more spatial resolution and refresh 60x more regularly than the network of existing air quality reference stations in Camden, capturing and reporting hyper-local air quality data every minute to map the issue in real time.
The data generated from the network can be used in a myriad of ways, enabling the public to map less polluted routes from A-to-B, feeding into local traffic management policy and providing NHS Trusts and schools with information to help raise awareness of air pollution and protect vulnerable communities.
Marc Ottolini, CEO of AirLabs, said: 'Camden Council understands the importance of empowering the community to tackle this vital issue head on. This network will serve as a blueprint for boroughs across London and cities around the world, using the power of data to inform meaningful action and protect populations from the invisible threat of air pollution.'
Camden councillor Adam Harrison commented: 'Camden's citizens have made clear that more must be done to tackle the air quality health crisis, and Camden Council has committed to the meeting the World Health Organization air quality standards as well as stepping up our pollution monitoring and efforts to raise public awareness about the health risks from exposure to air pollution.
'This project will form an important part of our work to protect public health by building a more detailed understanding of the sources of air pollution throughout Camden and the actions we can all take to reduce pollution and our exposure to it.'