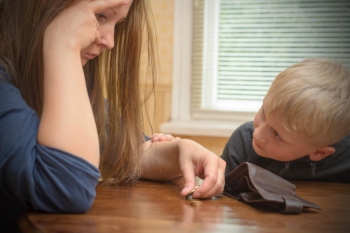 The UK's social security system is failing to protect low-income families from extreme hardship and urgently needs reforming, researchers have warned.
A new report by the universities of York and Birmingham and Child Poverty Action Group (CPAG), concluded the pandemic has 'exposed and exacerbated' problems with the UK's welfare system.
It found the financial pressures faced by parents and carers on low incomes were often made worse by the current system due to factors such as the five-week wait for the first payment of Universal Credit.
The researchers also found millions of claimants on legacy benefits and those subject to the benefit cap 'fell through the cracks' during the pandemic as they did not receive the uplift.
Lead author of the study, Dr Ruth Patrick, from the Department of Social Policy and Social Work at the University of York, said: 'Our social security system is currently ill-suited to protect people from poverty, and to provide individuals with some level of security as they navigate what are often temporary challenges in their lives – for example, the loss of a job, relationship breakdown, parenting and care work or ill health.
'This was clear before the pandemic, but COVID-19 further exposed and highlighted just what it means when your social security system is simply unfit for purpose.'
The report makes a number of recommendations including giving caseworkers reasonable caseloads, providing people with a single point of contact, and recognising the demands and benefits of unpaid care work.
It also the removal of the five-week wait for Universal Credit, and for benefit sanctions to be a last resort.
Alex Beer, welfare programme head at the Nuffield Foundation who funded the study, added: 'The Government needs to attend to the adequacy of social security benefits - even more so as costs of living rapidly increase - and ensure a people-first approach in the delivery of benefits.'