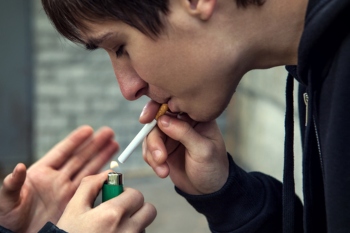 A health charity has called for a consultation on raising the age of sale for tobacco to 21 to help cut the number of smokers by thousands every year.
Action on Smoking and Health (ASH) has made the call after a study published in the Lancet showed three quarters of the world's smokers have their first cigarette by 21.
Academics from University College London (UCL) predict that raising the gae of sale to 21 would reduce the number of smokers by 30% in the first year, falling from 364,000 to 255,000. After year one, 18,000 new smokers a year would be prevented, the modelling suggests.
Professor Robert West, emeritus professor at UCL, said: 'Our modelling shows that increasing the age of sale for tobacco to 21 will lead to an immediate and substantial decline in smoking prevalence among young adults, far greater than any other policy measure under consideration.'
ASH is urging the Government to consult on this proposal.
Deborah Arnott, chief executive of ASH, said: 'This powerful global study shows clearly that smoking is an addiction of youth. Raising the age of sale to 21 could protect more than a hundred thousand people from a lethal addiction which many will struggle their whole lives to quit. And that's just in the first year.
'If we're to achieve the Government's vision of smokefree country by 2030 this is the kind of bold action that's needed.'