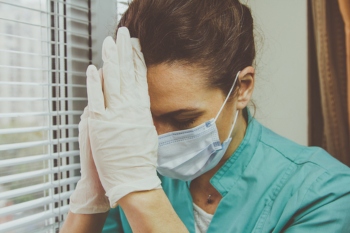 Three quarters of care workers have experienced worsened mental health as a result of the pandemic, new research has warned.
A survey conducted by trade union GMB found 75% of care workers said their work during the pandemic has had a serious negative impact on their mental health.
Their mental health also declined throughout the second wave, according to the survey, with those only entitled to statutory sick pay reporting lower mental health scores.
GMB said urgent action is needed to tackle the 'mental health crisis' including full sick pay for care workers, higher wages and funding for new mental health services.
Rachel Harrison, GMB national officer for care, said: 'If any good is to come out of this pandemic then it must include urgent reform of the sector. Ministers and employers need to explain how they are going to care for the people who have cared for us.
'As a minimum, this must include dedicated national mental health services, a substantial increase in pay, and full sick pay cover so that care workers can afford to self-isolate when they are ill – no-one should be asked to live on £96.35 a week.'