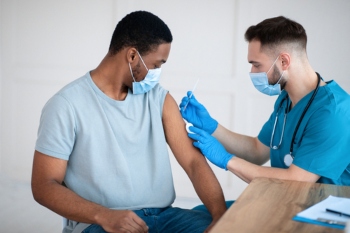 The Government has confirmed everyone working in a CQC-registered care homes in England will need to be fully vaccinated against COVID-19.
The new legislation means that from October, all staff working in a care home for residents requiring nursing or personal care must have two doses of a COVID-19 vaccine unless they have a medical exemption.
The new law will also cover people going into care homes for other work such as hairdressers and tradespeople.
Dr Mary Ramsay, head of immunisation at PHE, said: 'Having a high level of protection in care homes will reduce the risk to this very vulnerable population.
'Evidence shows that two doses of the vaccine offers high levels of protection against hospitalisation from COVID-19. We also know that getting both doses of your jab reduces your risk of unknowingly passing the virus on to others.'
However, there has been concern that the move will cause people to leave the sector.
'The Government's sledgehammer approach now runs the risk that some care staff may simply walk away from an already understaffed, undervalued and underpaid sector,' warned UNISON general secretary Christina McAnea.
The Government will also consult later this year on extending the rule to cover other health and social care settings.
Cllr David Fothergill, chairman of the Local Government Association's Community Wellbeing Board, said: 'Any targeting of mandatory vaccination should be proportionate and appropriate to specific areas where take-up rates remain lower. It is only right that care workers are treated the same as their NHS counterparts and we are pleased that government has listened to our feedback about extending this to the health workforce, as any suggestion of being singled out could have adverse consequences for recruitment and retention of the care workforce.
'We will respond to the new consultation once it is published.'