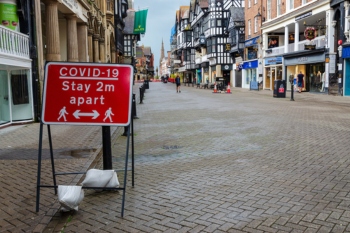 The COVID crisis exposed existing weaknesses in public services, including the underfunding of local government and the neglect of social care, the National Audit Office (NAO) has said.
In its latest report on the response to the pandemic, watchdog has warned local government finances – which were already underfunded – had been 'scarred by the pandemic and will not bounce back quickly once the pandemic ends'.
It suggests the Government had failed to properly prepare for a pandemic, leaving ministers without a 'playbook'.
In his introduction, comptroller and auditor general Gareth Davies said the pandemic had 'laid bare existing fault lines within society, such as the risk of widening inequalities, and within public service delivery and government itself'.
He added: 'The relationship between adult social care and the NHS, workforce shortages, the challenges posed by legacy data and IT systems, and the financial pressure felt by parts of the system all require long-term solutions.'
The report, based on 17 separate reports on the COVID response so far, estimated that the government spent an extra £372bn on the crisis to the end of March, taking in the full lifetime of all policies. Of that figure, £11bn went to the Ministry of Housing, Communities and Local Government.
It calls for the government to put the NHS and local government 'on a sustainable footing, to improve their ability to respond to future emergencies'.
The watchdog suggested the lack of integration between health and social care 'has been challenging for decades, leading to a better response to the pandemic for health services than for care, with health trusts receiving 80% of their requirements for protective equipment compared with 10% for care providers.
The response to the crisis was also hampered by gaps in data, the report said, with the Government taking three weeks to identify clinically vulnerable people who needed to shield due to the challenges of using different data from NHS and GP systems.
The report also called for 'effective coordination and communication between government departments, central government and local government, and private and public sector bodies'.
Photo: John David Photography / Shutterstock.com