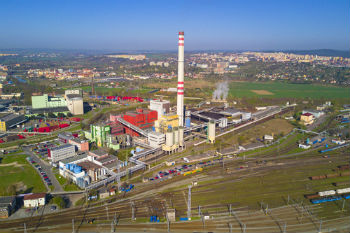 The growing popularity of district heating, with the opportunities it provides to cut greenhouse emissions and generate power locally via combined heat and power (CHP) plants, is laudable. Heat production currently accounts for around 30% of UK carbon emissions.
With the UK government aiming for eight million homes to be connected to these district networks by 2030 – up from the 250,000 we have at present – generous funding incentives have been made available to drive this change.
As part of a spending review in June last year the UK government committed to an investment of £320m in district heating networks, estimating a 30% reduction in heating costs for those connected.
In early May 2017, the Scottish Government committed £43m to fund 13 district heating projects across the country, as part of the Low Carbon Infrastructure Transition Programme. By 2020, the government predicts that heat networks could service 43% of the UK's heating demand.
Once associated only with public housing and inflexible flat rates, smart technology is enabling district heating systems to become a more flexible option. CHP schemes work best in densely populated areas, where there is the opportunity to spread cost widely and therefore keep the cost per user low.
CHP systems also help to balance the energy demands of different types of building more efficiently – for example offices and schools, which use most of their energy during the day, complement the demands of residential buildings which see peak demand during evenings and weekends. This balance in demand is better for the environment, and cuts costs still further.
Despite the obvious benefits, developers and local authorities face some common pitfalls when installing CHP plants on their sites which can be costly if not managed correctly. CHP plants represent a significant upfront investment and take time to provide a good return – this means that keeping ongoing maintenance minimal and operating costs low is particularly important.
Top tips to avoid unforeseen issues include selecting the right equipment up front. It seems obvious but technology moves quickly and seeking expert advice on the scope and specification of different options will ensure that the equipment is hardwearing and designed in a way that allows the scheme to run efficiently. Cheap is often not the best option.
Estimating demand as accurately as possible and choosing the right size of plant is important as a first step – too big, and developers will bear unnecessary costs during the build. Efficiency will then be impaired once the plant is up and running, with higher costs passed to the customer as a result. Too small, and the system will not be able to deal with demand at peak times, while the resultant overloading will increase maintenance costs and have implications for the equipment's life span. Beyond the obvious cost implications of an inefficient system, consistency and reliability are vital to keeping customers on-side.
Other important areas for consideration are compliance and responsibility regarding regulatory requirements – such as storage of hazardous fuels, clean air and noise regulation.
Once you've got the right kit, it usually falls to the developer to bear the cost of installing the plant before transferring its management to another party for the longer term. Even if it will ultimately be passed on, developers need to consider the whole life of the scheme up front to avoid difficulty or costs down the line. It's also important to consider at the outset whether a situation may arise where the CHP facility needs to be withdrawn in future, and reflect this in any legal agreement.
Managing residents' expectations is also vital. CHP schemes can create a situation where people feel trapped with a tariff they perceive as uncompetitive, without the opportunity to switch. However, it should now be possible to design schemes that are both viable and competitive by giving early consideration to both design and commercial arrangements.
Further complication comes from the fact that under section 20 of the Landlord and Tenant Act 1985 the standing charge could be classed as a service charge and may therefore require appropriate consultation.
Either way, full information on the CHP scheme and its implications should be provided at the start of any sales process to ensure buy-in from the start. Ensure sales staff are fully briefed on both the benefits and implications of the scheme, so buyers fully understand how the set up will work going forward. A robust and effective procedure for handling complaints is also important, so establish from day one both the best approach and who will be responsible for its ongoing management.
It's also important to carefully scope the legal and commercial relationships involved early on – who will own the equipment and at which stage of the lifecycle? Do you need to set up a separate corporate structure to own the plant or enter into agreements with the energy supplier? How will the various different agreements intersect on everything from project management to engineering and power connection to maintenance, and what are the implications for spreading risk?
CHP is a great opportunity, but the devil remains in the detail. Taking time to understand and mitigate all possible issues up front will save significant headaches down the line.
Ruth Barnes is a partner and head of residential sales at Winckworth Sherwood