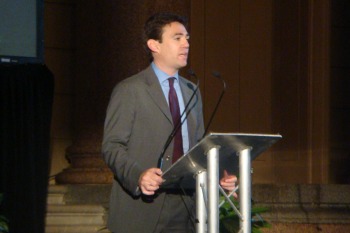 The Mayor of Greater Manchester has called on the Government to declare a 'homelessness emergency'.
Last week, Parliament declared a 'climate change emergency' in the wake of protests by environmental activists.
Andy Burnham, in a speech today at homelessness charity Mustard Tree in Manchester city centre, is expected to call for a similar declaration on the issue of homelessness.
'Last week Parliament voted, rightly, to declare a climate change emergency. But where is the declaration of a homelessness emergency?' he will say.
'Surely, when hundreds are dying every year on British streets, that is exactly what is needed.
It is estimated that there were at least 449 deaths on UK streets in 2017/18 – something Mr Burnham characterised as 'a humanitarian crisis of our own making'.
Mr Burnham will also call for a 12 month extension to Greater Manchester's 'A Bed Every Night' scheme, which was established last autumn to support rough sleepers.
'Crisis [a homelessness charity] have estimated that, if one person is left to sleep rough for a year, it can cost public services over £20,000 in emergency support,' he will say.
'At £32 per person per night, it costs £11,680 for someone to stay for a year in A Bed Every Night.
'When you face up to the fact that it costs public bodies a lot of public money to do nothing about rough sleeping, it creates a moral imperative for more urgent action.'
The Mayor is expected to urge the Government to support other cities to follow Greater Manchester's example.
'There is no reason at all why other areas can't set up a similar service. Devolution has made it easier for us to focus but it is not a pre-requisite,' he will tell the audience at Mustard Tree.
'There is evidence that a small percentage of people have come to Greater Manchester because of the higher level of provision compared to other areas.
'The answer to that is not to scale back what we are doing but for other places to do the same.'