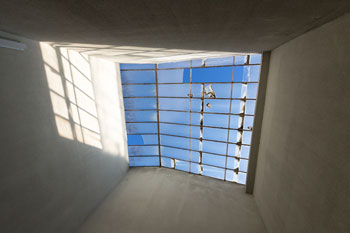 A burglar has failed in a bid to sue a county council after falling through a school skylight and sustaining life-threatening injuries.
Thomas Buckett suffered 10 skull fractures and spent two weeks in a coma after plummeting 15 ft at the local authority owned building in 2010.
Buckett – who was 16 at the time - survived £10,000 worth of surgery following the incident. His family launched a legal bid for damages, claiming not enough had been done to protect him.
It was originally claimed Buckett and four friends had been fetching a football from the school roof but Stoke-on-Trent County Court was told the group had stolen property from the site.
Judge Main found in favour of the town hall and ordered Buckett's family to pay the council an interim sum of £150,000 by May 4, a figure that could rise to £260,000.
He said more could have been done to address the issue of trespassers at the building but acknowledged the school had taken 'reasonably action' to improve security.
Main added: 'Mrs Buckett has lost this claim but there's no disguising the fact Thomas has been very seriously injured as a consequence of this and that is a great tragedy to his family and his friends.'
Staffordshire County Council's interim chief executive, John Tradewell, said: 'This was a terrible incident that has had a profound and life-changing impact on Thomas and his family. We have every sympathy with them and wish Thomas well in his continued recovery.
'However, our decision to defend this case was about fairness to the taxpayer. We do not think it is right or fair that public money is used to compensate for injuries sustained during a trespass.
'We feel that the judge has made the right decision, based on the evidence presented in court. The county council will continue to help Thomas access the care and support he needs to live as fulfilling a life as possible.'
Speaking after the verdict, Buckett's mother Mandy said she was 'disappointed' with the ruling.