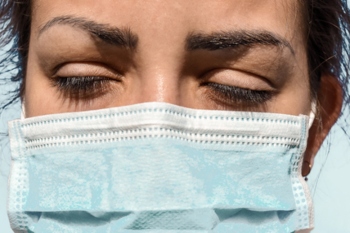 The chancellor has faced criticism for failing to address the social care crisis in his Budget yesterday.
Care England accused Mr Sunak of 'swerving' social care, arguing the budget did not provide any long term assurance for the sector.
Professor Martin Green, chief executive of Care England, said: 'A ten year plan akin to that of the NHS backed by £7bn injection into the adult social care would have been a great help to the sector, a sector which is a big part of the national infrastructure.'
Dr Jennifer Dixon, chief executive of the Health Foundation, said: 'There are still no proposals to address the broken social care system and the long commitment to reform remains unaddressed. And while funding was set aside for the NHS to manage the immediate COVID-19 crisis, the budget does not provide sufficient funding to support the direct costs of managing COVID-19 in 2021/22 and beyond.
'This raises major concerns about how the NHS will cope if COVID-19 is something we have to live with for years to come, as well as how to deal with the huge backlog of care, support rising demand for mental health services and make progress towards the long term plan. Any delays to long term investment in the workforce and capital infrastructure will also further slow the NHS's progress towards recovery.'
The National Care Forum said the announcement failed to acknowledge the massive financial challenges affecting social care provision or the dedication of the social care workforce.
'The chancellor and his team must quickly address this. All ring fenced emergency funding for COVID-19 come to a grinding halt on the 31 March. Yet none of the costs associated with providing care in a COVID-19 world disappear. Urgent action is required to address these short term financial holes in the budget and the government must immediately outline the detailed timescale for the full scale reform of social care,' said Vic Rayner, chief executive of the National Care Forum.