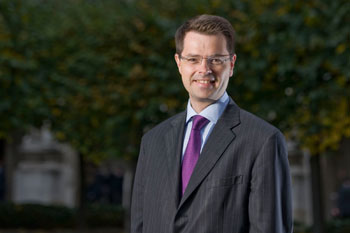 Communities secretary James Brokenshire has called on the next Prime Minister to publish a Green Paper on a new deal between local and central government.
In what sounded like a farewell speech to the Local Government Association conference Mr Brokenshire admitted 'the world looked different when I began this speech' and added: 'It's difficult for me to be expansive and set out fresh policies.'
However he went on: 'I will continue to make a powerful case for local government to see it receives the support it needs. It means delivering a new deal for local government, about funding but also a greater sense of shared responsibility for the difference we can all make for our people.'
He added: That's why I believe the next leader of my party will need to look afresh at the entire eco system underpinning local government and acknowledge that role we all have to play to spot problems earlier, champion best practice and help each other improve. I want to see these plans set out in more detail in a Green Paper.'
He said central government should do more to identify and support 'struggling' councils earlier, review the local audit system and encourage more input from local residents and expand the Troubled Families programme.
*Bank of England governor Mark Carney has agreed that expanding council housebuilding is one means of fiscal stimulus in the event of a hard Brexit.
Speaking at the LGA conference he said in answer to a delegate's question: 'In fiscal terms if projects were ready then the biggest bang to the pound is infrastructure spending of which social housing is a prime example.'