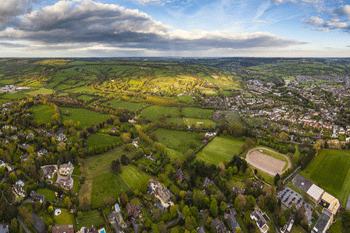 Britain's largest every Garden City - consisting of 45,000 new homes - is being planned for the heart of the Black Country.
The Black Country Garden City will be built across 30 towns near or within Wolverhampton by 2026, covering more than 1,500 hectares.
Regional leaders said the new development will meet the 'unprecedented demand' for housing and boost the local economy by £18bn over ten years. They also hope the Garden City will help attract skilled workers to the region and help retain graduates from the ten West Midlands based universities.
The development is being led by the Black Country LEP and the Homes and Communities Agency, with the support of the Department for Communities and Local Government.
Dr Chris Handy, Black Country LEP board member, said: 'The Garden City is a vital part of the Black Country's growth plans and future success. It will increase the appeal of the region as a place to live and work, and will boost the local construction industry and its supply chain. It is close to skilled jobs and universities, a regional market of five million people, and is served by quality transport connections.
'Not the since the Second World War has a Garden City been built on this scale or at this speed. It's going to transform the perception of the Black Country and demonstrate to the rest of Britain that we are a region that is going places.'