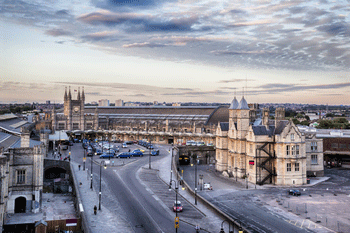 Bristol City Council has launched a consultation on its five-year plan for the city in the context of a 'mountainous budget challenge.'
The council yesterday released a draft five-year Corporate Strategy which sets out what the council will do, how it will do it and what its financial future looks like.
It called on the whole city to be involved 'in planning for the future, balancing the books and coming up with new ways for the city to work.'
Bristol council is facing a a budget gap of at least £92m from April 2017 – March 2022.
Increases in demand for council services are also expected to cost around £138m more over the next five years.
The 12 week consultation lays out the council's general approach, detailed business plans, spending plans and over 40 possible ways to make savings.
These plans would save between £51-£56m and so do not fully close the budget gap.
In an open letter to Bristol, Mayor Marvin Rees warned the financial challenge cannot be met 'without hurting the city and many of our citizens, as well as impacting on our city partners.'
Mayor Rees acknowledged the demand for services was creating pressure on the council, but he also blamed the 'false-economy of austerity.'
'I have inherited a very difficult budget position this year which limits the choices we're left with for the future,' he said.
'On top of this, in the past six years the council has saved around £170m due largely to cuts in Government grant as a result of the false-economy of austerity.'
The mayor stressed his administration would 'protect critical services' and 'tackle inequality' but warned local government is changing.
'We will not and cannot do it all or provide everything we once did,' he said.
'The conversation we're starting today is about new ways to provide services, including more roles for our partners, community groups and volunteers in services you might traditionally associate with the council.'
'Our focus now will be on convening people around the city's priorities and helping others to get things done,' he added.
Cllr Craig Cheney, cabinet member for finance, said the consultation would 'set the tone for the next five years of public life' in Bristol.
'It will affect day-to-day services accessed by Bristol people; major building and infrastructure projects and the costs for other big organisations such as the NHS and police,' he continued.
'I'd urge everyone to take part – we still need more ideas to help bridge the gap so there's a real challenge to the city to make practical suggestions and play an active role in society.'
'There's no use waiting until all the decisions are made before speaking up,' he added.