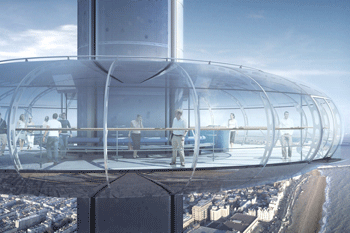 Brighton Council must intervene to ensure those working at the city's new observation tower are not paid poverty wages, union says.
GMB reports jobs in service and catering at the Brighton Eye are being advertised by a contractor at £7.20 per hour, despite the council being a living wage employer.
The union urges both Brighton and British Airways to guarantee all staff at the i360 project are paid a living wage of £10 per hour, something they say is particularly important given Brighton is one of the UK's most expensive cities.
The project to build the 162 metre tower was made possible by a loan of £30m from the Public Works Loan Board that was underwritten by the council.
Mark Turner, branch secretary of GMB Sussex branch, said: 'We are very disappointed to see these jobs being advertised at well below a real living wage.
'It's easy for British Airways i360 to claim to be a living wage company when they outsource low paid jobs like catering to other companies.'
Mr Turner warns that if this issue is not resolved, GMB will call for a boycott of the venue.
Brighton & Hove City Council leader, Warren Morgan, said: 'The BA i360 pledged 18 months ago to pay its staff the Living Wage of £8.25 an hour, and I'm please they are honouring that commitment with their 80 directly employed staff. They are amongst the first in the tourism sector to do so, but like most in the catering and hospitality sector, their restaurant provider Heritage Portfolio won't be paying the Brighton and Hove Living Wage.
'We've backed the Brighton and Hove Living Wage campaign since the start, and it is important that as many employers as possible across all sectors are encouraged to pay their staff a wage that enables them to live in the city and play a full part in our local economy.'
Eleanor Harris, CEO of British Airways i360, added: 'British Airways i360 will be directly employing approximately 60 full time and around 20 part time staff and they will all be paid at least the Living Wage. We are very proud to commit to pay at least the Living Wage to all our employees and this includes young people who are recent school or college leavers.'