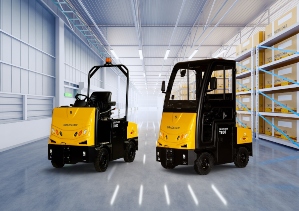 As the leading four-wheel, 8-tonne tow tractor on the market, the T800 has been a popular model for more than 25 years. It is used for baggage towing in airports, line feed in manufacturing, waste movement, bin towing, and many other applications.
The new T800 retains its robust build, durability, and reliability that has made it a firm favourite. The third-generation 8-tonne tow tractor from Bradshaw now features electronic steering, enhanced suspension, a new front axle, larger wheels, new brakes, a redesigned cab, and sharp modern looks that provide operators with a market-leading level of ride, comfort, and handling.
Electronic power steering replaces hydraulic steering, offering enhanced steering performance and making it easier for the vehicle to turn and manoeuvre at lower speeds. Electric motors, as opposed to hydraulic systems, eliminate the need for a pump, hoses, and hydraulic oil, helping simplify maintenance and reducing vehicle noise by 20 dB. Furthermore, the T800's steering advancements paves the way for an automated tow tractor!
The leaf spring suspension has been re-configured, providing the firmness required for towing applications while keeping a smooth and comfortable ride. The new larger pneumatic profiled soft solid puncture-proof tyres offers greater stability, traction and handling.
From the outside, the differences between the second- and third-generation T800s are obvious. The mark II's curvaceous panels have been replaced with a strong and angular design, matching the design ethos of modern-day automotive design. A redesigned sturdy wrap-around bumper plate protects the vehicle against impacts and damage.
Inside the vehicle, the changes are instantly notable. The soft-touch control panels and instruments enhance the working environment and include integrated cup holders, a storage pocket, and a USB socket to keep phones and electrical equipment charged.
T800's are available with a range of cab options; uncabbed, cabbed -no doors, cabbed with PVC doors and cabbed with twin slam doors allowing the T800 to be configured for a wide range or indoor and outdoor operations
For more information and technical specification visit www.bradshawev.com/t800