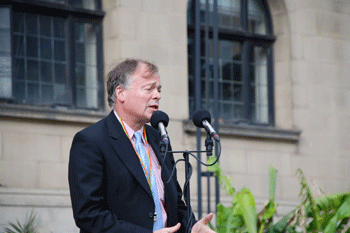 The Government needs to provide urgent clarity on future funding to pay for Syrian refugees, according to a letter from Clive Betts.
The chair of the communities and local government select committee has written to communities secretary Greg Clark asking for answers over how long local authorities can expect to be funding for taking on refugees.
He has warned that the government risks damaging community relations if it doesn't back its commitment to take on 20,000 with funding for local councils.
The letter comes after Mr Clark appeared to tell the select committee on 15 September that the government would give councils funding for refugees for five years. However, the following day the home secretary told Parliament funding would be for a single year.
Mr Betts said: 'The Government needs to spell out far more clearly what support they are going to provide to local authorities who will bear the additional schooling, healthcare and housing costs.
'The Government has made a commitment to take in 20,000 Syrian refugees and Ministers should match this with a promise to cover the full costs incurred by local councils - not just for the first year—to deliver this national policy.'
'If the Government fails to make this funding commitment, the Government is in effect saying to communities, 'Welcome refugees now, but you will pay the full cost in the future in cuts to your services for funding the refugees coming to your communities'.
'As a country we have a responsibility to help refugees but the Government must avoid potential damage to community relations by failing to provide the necessary support to local authorities.'