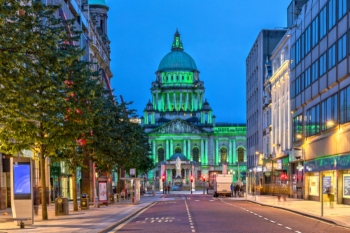 Belfast has achieved the highest growth in economic vitality out of 20 key cities in the UK, a new index has revealed.
The Northern Irish capital has topped the Evaluate|Locate Key Cities Tracker after it saw positive economic vitality growth of 3.1% in the 12 months to the end of Q1 2022.
Glasgow came in second place with +2.7% of vitality growth, while Sheffield saw positive growth of 1.7%.
However, Evaluate|Locate warned the increased cost of living and slower business growth has affected UK economic vitality index ratings.
Manchester was the worst performing out of the 20 key cities tracked with a -6.1% annual decline in its index score, followed by Aberdeen and Edinburgh which both dropped by -5.8%.
Adam Kirby, head of data & insights at Evaluate|Locate, said: 'In some city centres, the number of active businesses is in decline and unemployment is already high. There are also signs that such pressures are beginning to be felt in residential property values – and in time, potentially in city population trends too.
'Belfast is so far resisting this trend by maintaining growth in new active businesses, stable employment, and positive earnings growth that's almost matching inflation. Cities that can do the same will be best placed to weather a gathering storm for the UK economy – in which urban areas may feel the strongest headwinds.'