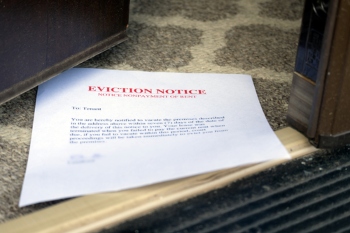 The temporary ban on evictions orders has been extended until the end of March in Scotland.
The move aims to reduce the burden on local authorities, who have a duty to rehouse people made homeless, and help reduce the spread of coronavirus.
Housing minister, Kevin Stewart, said: 'Extending the temporary ban on the enforcement of eviction orders in the private and social rented sectors in areas subject to level 3 and 4 restrictions will support tenants, and offer people protection from transmission of the virus by being able to stay safe in their homes.
'It will also prevent additional burdens being placed on health and housing services during a time where they are already working hard due to the impact of the pandemic. This is a proportionate response to an extremely challenging set of circumstances.'
The Westminster Government has been urged to follow Scotland's lead and also extend the ban on evictions in England.
Trade union Unite has written to local government secretary Robert Jenrick calling for 'immediate steps' to protect renters.
The letter states: 'The ban is due to end despite the ongoing COVID-19 pandemic, a new national lockdown and the wide-reaching economic crisis that is occurring as a result. The Government must take immediate steps to extend the eviction ban and give renters the security they need at this distressing time.
'The current lack of clarity for those potentially facing eviction is unacceptable and unnecessary, and is taking a devastating toll on many people's mental health in what is already an extremely difficult time.'