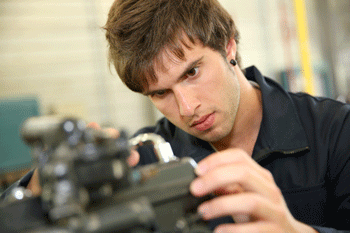 Huge amounts of money will be spent on sub-standard apprenticeships unless new quality standards are imposed, a leading think-tank has warned.
The Policy Exchange urges the Government to put in place a high-level quality target alongside its existing commitment to create three million new apprenticeships by 2020.
The report, The Skills We Need, And Why We Don't Have Them, says that of the £2.5bn an industry levy is expected to bring in every year until 2020, £500m will be spent on schemes which are not in line with a traditional definition of an apprenticeship.
The report calls for a new 'institute for apprenticeships' to guarantee quality and give employers a voice, and says the qualifications regulator, Ofqual, should decide how schemes are assessed.
The report's co-author Jonathan Simons said: 'A pure focus on numbers risks undermining the credibility of the apprenticeships programme in the eyes of employers and young people.
'A skills system in a country that works for everyone, not just a privileged few, has the potential to do so much better.'
David Hughes, chief executive of the Association of Colleges, backed the report.
He said: 'Policy Exchange rightly highlights the unhelpful nature of the Government's target of three million new apprenticeships by 2020.
'The target is about apprentices starting their work and study rather than about the quality of the experience and the outcome of that training and education.'