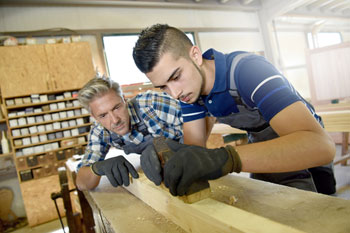 The Government has been urged to scrap its new apprenticeship target for the public sector, after new analysis by the Institute for Fiscal Studies (IFS) found it would not deliver value for money.
The report found that to increase the number of apprenticeships in every public sector organisation with at least 250 employees, would mean at least one-in-five new hires would have to be an apprentice.
The IFS said this 'blanket policy' was not an effective way to improve skills in the public sector, and could actually result in costly training and inefficient ways of working.
The analysis also revealed that the government has failed to make a convincing case for such a large and rapid expansion in the number apprenticeships. The target of 600,000 new apprenticeships a year in this parliament risks 'increasing quantity at the expense of quality', said the IFS.
Jonathan Cribb, an author of the report, said: 'With the subsidies for apprentices' training costs at 90% or 100%, employers are encouraged to take on more apprentices. But this also provides them with little or no incentive to choose a training provider with a lower price.
'In addition, the specific targets for most public sector employers in England to employ apprentices could lead to costly, and potentially damaging, re-organisations, and should be dropped.'