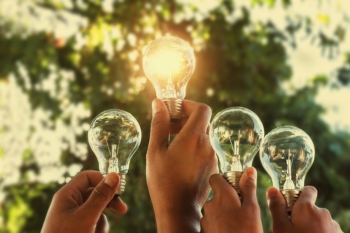 Community energy schemes benefit local economies and create clean, local power. Their potential is huge, but is blocked by outdated energy market rules. The Local Electricity Bill, if enacted, would ensure this potential is realised by creating a right to local supply, empowering new community energy companies to sell clean power directly to local homes and businesses.
Imagine a future where we can all buy clean electricity directly from a local supply company or co-operative that works in partnership with the local authority and ensures that every pound spent powering our homes, workplaces and transport supports local jobs and helps to fund new facilities and services in our communities and in turn contributes to the building of more renewable energy infrastructure.
Evidence of the threats the climate crisis presents is increasingly alarming. The UK is way off track in achieving its emissions reduction targets, as set out in the Climate Change Act and the Paris accord, as the Climate Change Committee has stated. Currently, only 12% of our energy comes from renewable sources. The big challenge is to rapidly transition our heating and transport from fossil fuels to clean power. A change of this scale can be only achieved through the active involvement of people.
Community energy – meaning smaller-scale, renewable power generation that is owned and run, at least in part, by local community companies or co-operatives – is a tried-and-tested means of engaging people in the energy system.
Its potential is huge: a 2014 government report stated that we could have had 3,000 megawatts of community energy generation by 2020. A recent Parliamentary Environmental Audit Committee's inquiry said that, 'by 2030 the community energy sector could grow by 12-20 times, powering 2.2 million homes and saving 2.5 million tonnes of CO2 emissions every year'. Currently UK community energy generation is just 319 megawatts – 0.5% of our total energy generation. It is hard to imagine a greater failure of potential.
The blockage is caused by our energy market and licensing rules, which are largely unchanged since they were designed in the 1990s. They create insurmountable costs for community energy groups wanting to sell power directly to local customers. A report by the Institute for Public Policy Research stated that the initial costs of setting up a licensed energy supply company exceed £1m.
Imagine setting up a microbrewery, planning to deliver beer to local pubs, off-licences and homes, but then being told to must pay £1m in road tax for your delivery van. The business would never be started, and the savings in transport costs, greenhouse gas emissions and prices would never be realised. This is the reality that the community energy sector faces.
This also explains why the commendable efforts of some local authorities to set up their own energy companies have often struggled. They face a market structure set against them.
The 319 megawatts of installed community energy capacity exists because of the dedicated efforts of the people who make up the UK's few hundred community energy groups. Some of the best examples are where these groups have worked in partnership with their local authority, creating mutual benefits. Many of these groups put revenues towards local fuel-poverty programmes and low-carbon transport. They are staffed largely by volunteers, who work hard to survive in an unnecessarily harsh regulatory environment.
The outdated market rules mean that these groups must sell their power to large utilities, which sell it on to customers. That makes it impossible for community energy to scale up. The market structure does not recognise nor incentivise the efficiencies and savings that community energy's distributed generation creates by enabling power to be consumed closer to where it is physically generated. This is why community energy has hardly grown for more than a decade when it should have been multiplying many times over.
The solution is a right to local supply that enables community energy schemes to sell their power directly to local customers. It would then be viable to expand existing schemes and to construct many new ones. This was specifically recommended to the government by the aforementioned Environmental Audit Committee's recent inquiry.
The Local Electricity Bill would do this. Think of it - a surge in clean energy and a surge in public welcoming of climate solutions, because people would see the local economic benefits happening in their own communities.
The need to reach net zero is becoming ever more urgent. It can be done if people are involved and see tangible benefits. Community energy could make a large contribution by producing the clean power we need and bring people with us, before it is too late.
Steve Shaw is director of Power for People who are co-ordinating the campaign for the Local Electricity Bill