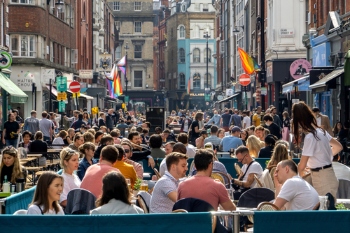 Westminster City Council has decided to continue supporting a number of outdoor dining schemes after a positive response to al fresco dining from locals.
During the lockdown, the city council supported nearly 900 business, bars and restaurants to provide outdoor dining with pavement licences.
Following a month-long consultation, the council has received feedback from residents and businesses in Covent Garden and St. John's Wood with more than 80% of respondents voting in favour of outdoor dining measures remaining.
In Covent Garden, two consultations have taken place. The first consultation confirmed people and businesses in the local area would like al fresco dining to continue on Henrietta Street, King Street, Maiden Lane and parts of Southampton Street.
The second consultation was on the Neighbourhood Traffic Management Scheme which looks at traffic movements across the whole area and into Camden and proposes timed closures.
'Covent Garden has always been one of London's top destinations for hospitality and St. John's Wood offers world-class eateries on a bustling local high street,' said Cllr Matthew Green, Westminster City Council cabinet member for Business, Licensing and Planning.
'We're really pleased that residents and businesses have voted in favour of keeping al fresco. Thanks to residents and businesses working together, Westminster is proud to be able to support the continuation of outdoor dining in these areas.
'We are committed to supporting our local communities bounce back from the pandemic. Al fresco has been and continues to be a lifeline for businesses in the West End. This summer, we created more than 16,000 additional covers across the city – the highest number in London – helping to save countless businesses and jobs in Covent Garden and across Westminster.
'There are some consultations which are still ongoing, and we will continue to work with local communities and businesses as we explore permanent schemes.'
Image: cktravels.com / Shutterstock.com