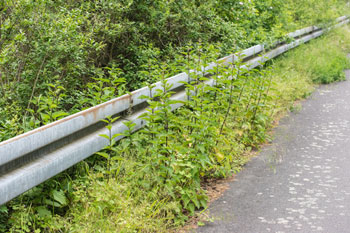 Air pollution and bad management have caused the diversity of wildflowers on road verges to fall by 20%, new research has found.
The study, by Plantlife, shows that Britain's wild flowers are being overtaken by invasive plants that thrive on nitrogen-rich soil such as stinging nettle and bramble.
The charity warns these 'nitrogen guzzlers' are crowding out some of the rarest and most threatened species.
Dr Trevor Dines, Plantlife botanical specialist, said: 'Poor management has combined with pollution to create a perfect storm. Not only have councils adopted an over-eager regime that sees flowers cut down before they can set seed, but the mowings left on the verge simply add to the soil richness.
'Under this management, summer-flowering plants such as eyebright and harebell are disappearing and only the toughest of characters - like nettle and bramble – are prospering.'
Research by Plantlife estimates that better management of road verges could deliver 400 billion more flowers, the equivalent of 6,300 per person in the UK.