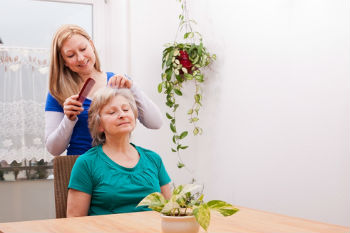 The Government has launched a £500,000 innovation fund as part of a new 'action plan' to improve support for unpaid carers.
One in 10 adults in the UK provides unpaid care for a family member or friend who cannot cope without their help due to illness.
In order to help these unpaid carers the Government has started a two-year programme which includes employment support for carers.
This was welcomed by adult social care directors as 'a good next step'.
The programme will promote best practice for flexible working so that carers are able to continue to work alongside their caring role.
There will also be a new £500,000 Carer Innovations Fund to promote innovative ways to support carers.
Alongside these measures, the new programme includes funding for a review of best practice in identification of young carers and access to support.
'It's a sad fact that carers too often feel ignored, isolated or taken for granted, and given any one of us could become a carer at some point in our lives, government and society must do more to support them,' said the minister for care Caroline Dinenage.
'We recognise the invaluable contribution of carers, selflessly caring for those they love, and these measures will mean they are supported in all facets of their lives.
'Together these measures are a step-change in the way we support carers so they can gain employment, learn the skills they need to succeed and feel supported by the communities they live in.
'Our review to identify young carers will ensure they don't slip through the net, and that they receive practical and emotional support to allow them to stay healthy, happy and make the most of their education.'
Responding to the announcement, Glen Garrod, the president of the Association of Directors of Adult Social Services (ADASS), said: 'As leaders in social care across the country, ADASS is keen to see carers, who make such a crucial difference to the people they look after, recognised as the vital support that they are, and this action plan is a good next step towards making this happen.
'We have contributed to this discussion and advocated for this action plan to be published for some time, so it's good to see some progress on this.
'It's crucial that carers are given the support – and respite – they need to be able to fulfil their role effectively. We have consistently called for a sector-led approach which has as its heart the needs of the local communities, with resources from central government supplied to facilitate this.
'Only by taking the lead from people we care for, in the communities in which they live, can we deliver an approach that ensures the best possible care.'
Genevieve Edwards, director of external affairs at the MS Society, also welcomed the news, but said there was a 'lack of any real commitment to increase financial support for carers.'
'Unpaid carers are under untold pressure, with over four in ten admitting they struggle to make ends meet,' she said.
'Given it's their contribution keeping our social care system afloat, they deserve better.
'The Government must urgently deliver a funding solution so the system works for unpaid carers, and everyone else who relies on it, both now and in the future.'