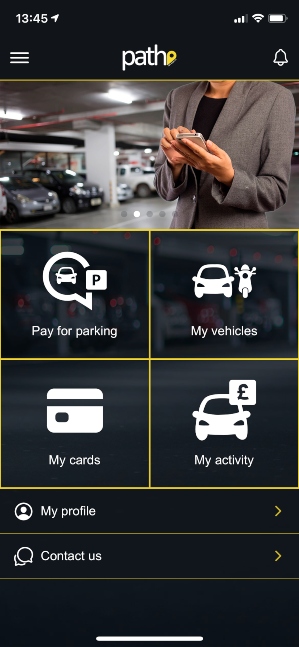 APT Skidata, the UK's leading parking solutions business, has launched Path, an innovative parking solution that enables local authorities and operators to manage parking across multiple environments through a single ecosystem, with access to real-time user data.
Path is an app-based solution that allows car park owners and operators to simplify the parking ecosystem management and give their customers a consistent parking experience, as well as supporting a touchless parking environment.
The standard set-up of Path allows registered users to store their payment and vehicle details and set up 'autopay' for quick payment and fast entry/exit without having to touch a machine at any Path-enabled car park. It also provides customers with full visibility of their parking activity.
Path offers a new parking experience for all types of car parks including shopping malls, town centres, airports, hotels, hospitals as well as destinations and resorts. APT Skidata has taken a modular approach to building Path which means that it can be tailored to meet the specific needs of all these environments whether the set-up is ticketed, ticketless, barriered, or barrierless, using ANPR. It can also accommodate staff parking, corporate accounts, reservations, VIP drop off zones – all in one single app.
Car park owners and operators can use other Path modules such as 'Pay Now' for ticket systems which allows customers to use the Path app as a mobile pay station simply by entering their licence plate details and scanning their ticket. They can also use the 'Permits' module which allows users to purchase monthly, quarterly or yearly parking passes, removing costly administration from the car park operator.
Car park owners and operators can adopt the Path app as their own with a branding module that allows them to use their own logo, images and colour scheme. For those car parks looking to enhance customer loyalty, Path is a means of getting straight to a registered parker with 'push' notifications to offer things like free parking sessions, all day parking for a fixed fee, or other incentives to return.
Derek McClean, Head of Product at APT Skidata, says the Path app can provide local authorities and operators with the complete parking solution: "We are taking our knowledge and expertise of the parking ecosystem to develop digital solutions that meet the needs of our customers – the car park owners and operators – as well as in response to the changing expectations of car parking customers who want a more seamless parking experience.
"Path simplifies the transactional side of parking and gives parkers a payment solution in their pocket. It also helps to reduce the total cost of ownership of parking as it reduces the reliance on having so many pay stations.
"Drivers make many journeys and car park operators may have many car parks," says Derek, "but there is one Path to support all of them."
Regardless of the car parks connected on the network, Path provides real-time user data, which can help to provide invaluable insight into car park usage.
Derek says that development work on the app continues and new features and modules will be added in due course.
For more information visit www.swarco.com/companies/apt-skidata-ltd