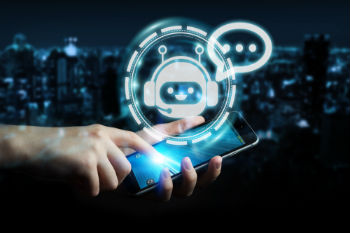 There is a perfect storm brewing across local government, with ongoing budget cuts met by increasing public expectations of improved, digitised services.
As citizens become more and more reliant on digital and mobile apps in their daily lives - like Uber, Just Eat, Monzo and others – there is an increasing frustration when these levels of convenience don't spill into the public sector.
Why can't reporting a missed bin collection be as seamless as ordering a takeaway? Or reporting a pothole be as simple as booking a cab? Citizens today expect to be able to reach their service suppliers at any time and across any channel; whether that's telephone, web, email, social media channels, or increasingly through messaging apps like Facebook Messenger and WhatsApp.
Voice assistants like Alexa and Google Home can't be ignored either. The use of voice assistants is set to triple over the next few years, according to a new forecast from the U.K.-based analysts at Juniper Research. In short, more people are turning to AI to answer their queries than ever before.
That's the reality surrounding local authorities and yet approaches to customer service still heavily revolve around the telephone and email.
Analysis carried out by We Build Bots has looked at call volumes, call types and call lengths across 50 local authorities and found over 45% of these interactions to be 'automatable' (for want of a better word).
We looked at a total of 10 million calls to local authorities, and, at an industry standard of £1 cost per call minute and an average length of call of three minutes, we estimate that the cost of handling these calls runs to around £30m across the 50 councils. Looking at responding to those calls from the perspective of time, rather than finances, it equals 500,000 hours or 66,666 working days of time.
We think at least 45% of calls can be automated and deploying AI powered automation like chatbots could save the 50 councils we studied an average of £270,000 per year, or 4,500 hours of time each.
Our analysis didn't even take into account email deflection, and the savings are already pretty compelling, but that's just the half of it.
This is money and employee time that could be deployed in far more productive ways than registering a missed bin collection, logging a pothole submission, or handing out the telephone number to the local leisure centre (all genuine call types). Through the adoption of AI, people answering these calls and emails for local authorities can be freed up to focus on the enquiries that matter most and need a dedicated, personal touch.
Ultimately, by offering citizens the option to ask Alexa which bin is being collected this week or what day bin collections happen over a bank holiday, citizens get information more easily and quickly, and local authorities save time and money, which can be better spent elsewhere.
All in all, with budget cuts and increased citizen expectations, there's only really one way to weather the perfect storm, and that's via automation. It's not as scary as it can seem and it can start small and scale. One thing is for sure, this is a trend that won't be reversed any time soon, and the early adopters are the ones already seeing huge benefits for their organisations and most importantly, for their citizens.
Paul Shepherd is the CEO and founder of We Build Bots