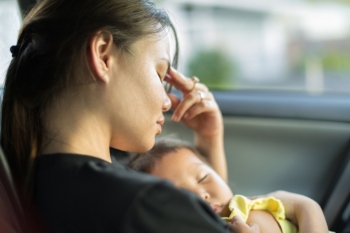 The Government need to provide a long-term financial settlement for to tackle rising demand for children's services, experts have warned as economic consequences of COVID hit.
New figures released by the Association of Directors of Children's Services (ADCS) show the true impact of the pandemic on children's services is only starting to emerge. With a bleak economic forecast to come, more and more families will be plunged into crisis, the association has claimed.
ADCS president Jenny Coles said the latest figures show increased pressure on children's services after a 50% real terms cut in funding over the past decade.
'The Government must provide the sector with a sustainable, equitable and long-term financial settlement that enables children to thrive, not just survive in the wake of the pandemic,' she said.
Ms Coles claimed the pandemic had 'exacerbated pre-existing challenges such as poverty, hunger, parental ill health and domestic abuse'.
'With each week that passes thousands more children begin claiming free school meals and the economic outlook going forward seems increasingly bleak, meaning even more children and families will be plunged into crisis. The situation is urgent,' she added.
Although the Troubled Families programme has been extended for a year, she said local authorities need more certainty.
'A whole system approach to investing in the lives of children and families is urgently needed. We are all committed to making this a country that works for all children, we now need the backing of government to make this happen.'
Respondong to the report, Cllr Judith Blake, chair of the Local Government Association's children and young people's board, said: 'If we are to avoid families falling into crisis and causing long-term damage to the prospects of children and young people, we need to ensure councils have enough funding to reinvest in the preventative and early-help services that children, young people and families need, as soon as they need it.'