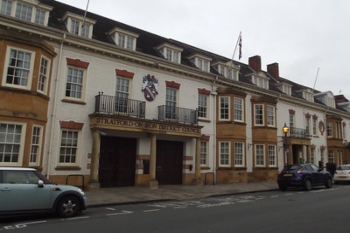 A fall from grace following foolish and arrogant behaviour, public humiliation and stripping of political status - it sounds like a Shakespearian plot.
As well the story of the two councillors embroiled in disciplinary action at Stratford-upon-Avon District Council in the heart of Shakespeare Country might.
Councillors Peter Barnes and John Fielding were accused in an official investigation report of indulging in a 'culture of sexism', involving among other things the suggestion to a woman that she had 'good childbearing hips' and could be assisted in a 'pagan fertility ceremony'.
It can be made to sound like a comedy or even a farce but is a serious business with potentially catastrophic consequences.
Not long ago there was public outcry on the national stage when it came to light that professional staff at the House of Commons, mainly young women, were being subjected to unwanted sexual advances.
It was roundly condemned as totally unacceptable and measures were taken to stop it happening in the future.
At the time we suggested in this column that it was likely there were similar problems in local government where, very often, there are also structures of dominant male power.
But, seemingly, it was a false alarm. All was quiet in the town and county halls up and down the land.
It has now emerged that Stratford-upon-Avon had been the setting of active male oppression for some years.
But the latest 'pagan ceremony' episode came to light not because of a formal complaint, union action, a publicity campaign or a leak to a local newspaper. It was a pure accident.
LocalGov learned that the council's then chief executive, Isabel Edgar Briançon, posted on Facebook that there had been many episodes of unwanted sexual advances and harassment going on for some time.
She believed it was a private post to friends. But in fact it was public, and was brought to the attention of the council's officers who decided they had to act.
So if it had not been for a simple misunderstanding of how a social media platform works, this example of sexual harassment may never have emerged and the two councillors could have continued to abuse their female staff.
All's well that ends well, some might say, with the two councillors in Stratford facing disciplinary proceedings and being forced to apologise in writing to the entire council staff, and being deprived of the whip by the council's ruling Conservative Party (the other is independent).
However, certain questions remain: how was this unsocial behaviour allowed to continue for so long? People must have known it was going on – why was there no investigation earlier? Why wasn't the alarm raised by staff representatives?
Most worrying of all the question of whether this is the tip of a hidden iceberg. We cannot know how many other councils there are where harassment and intimidation are continuing unchallenged and may only ever come to light through a chance accident, as in Stratford-upon-Avon.