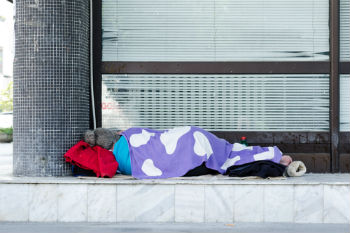 It is the first major piece of homelessness legislation in England for 15 years and has been welcomed by virtually everybody.
Having gained royal assent in April just days after the general election was called, the Homelessness Reduction Act is poised to have a major bearing on how local authorities tackle one of this decade's biggest social issues.
Compared with seven years ago, more people in England are sleeping rough, more are in temporary accommodation and, while nobody's counting, more people are 'sofa surfing' or simply coping without a permanent home.
The act requires councils to intervene sooner if people are threatened with homelessness and do more to help anyone without a home, not just those classed as 'priority need'.
Supporters are quick to stress the new measures will not solve homelessness overnight. 'The act provides support for people who are currently cut out of the system,' says Alice Ashworth, senior policy officer at the housing charity Crisis.
At the heart of the legislation, steered through Parliament by Conservative backbencher Bob Blackman, are two new duties. A preventative duty requires councils to assist anybody who is threatened with losing their home in the next 56 days (up from 28 days), while a relief duty requires councils to help anyone without a home to find one. Public authorities must refer to a council any client they work with who is homeless or at risk of it
At present, most support is given to 'priority' cases such as pregnant women, families with dependent children or anyone fleeing their home due to violence. These are normally offered temporary accommodation - typically hostels or bed and breakfast - until a permanent home is available.
In future, councils will still be able to withdraw support if people fail to co-operate and do not show they are making their own efforts to find a home. There is also still no guarantee that even priority cases will be offered a home with a social or private landlord. But there appears to be a renewed willingness to accept more needs to be done on the part of government, which is offering councils £61m over two years, as well as local authorities.
Last December, the number of households in temporary accommodation in England stood at 75,740 - up 10% on a year earlier. The most recent rough sleeping figures, based on local authority headcounts and estimates last autumn, showed 4,134 people sleeping rough - more than double the number in 2010.
According to Ashworth, the act should mean people are helped to mediate with a landlord or their family, rather than sent away 'to sleep on the streets.' She adds: 'Some councils tell people to come back when they're actually homeless. They wait until people turn up at the council with their suitcases.'
A report last year by the House of Commons communities and local government committee identified three main reasons for the increase in homelessness - lack of social housing, high private sector rents and welfare cuts.
The act began life as a private members' bill put forward by Bob Blackman, MP for Harrow East since 2010 and Conservative candidate there at this year's general election. He sees people facing 'a sudden crisis' as being the biggest potential beneficiaries.
Blackman insists that the government is not to blame, not even partly, for the marked rise in homelessness since 2010. Nor does he regret regularly voting for welfare cuts, including the bedroom tax.
The only solution, he says, is more housing so councils have something concrete to offer people seeking assistance. 'We as politicians have forced them into a position of rationing help,' he says. 'We have to build more homes in this country.'
After initially opposing parts of the bill, the Local Government Association came on board - providing there is enough money. A proposal requiring councils to provide emergency accommodation for anyone who is homeless was dropped following LGA pressure.
Steve Bullock, Labour mayor of Lewisham and executive member for housing at London Councils, has little doubt that, by offering £61m over two years, the DCLG has seriously underestimated costs. Lewisham estimates the extra burdens will amount to £2.4m in its borough alone. 'We share the ambition of dealing with these problems on a day to day basis,' he says. 'Our anxieties are around costs.'
Most homes built by councils and housing associations since 2013 are for 'affordable rent' (up to 80% of market rents) and are unaffordable for many households. Last year, just 6,800 homes were built for social rent in England compared with 39,560 in 2010/11.
Bullock believes all governments must share the blame for the shortage of social housing and subsequent reliance on private landlords. 'You can't excuse the last Labour government but it's an issue that's not been addressed properly since 2010,' he says.
Faye Greaves, policy and practice officer at the Chartered Institute of Housing, says the act has the potential to reduce the numbers receiving little or no help, especially single people, and will introduce consistency across local authorities.
The issue of whether somebody has made themselves homeless intentionally will not kick in until much later. 'People who might have been turned away with a list of hostels and private landlords will have a legal right to more help and more consideration,' she adds.
The new duties, which mirror changes made in Wales two years ago, may not be introduced in England until early next year. Guidance is awaited from the DCLG, while 28 trailblazer authorities are being funded until 2018/19 to trial the new duties.
Andrew Walker, researcher at the Local Government Information Unit, says they will pose an enormous challenge for councils with success depending greatly on resources. 'You need more staff available. You need a different interface with the public,' he says. 'It means using data more intelligently.'
Those expecting significant results may have to be patient, but there is at least the prospect of fewer people relying on a sleeping bag in a shop doorway.
'This is an act to reduce homelessness,' says Greaves. 'It's not an act to eliminate it.'