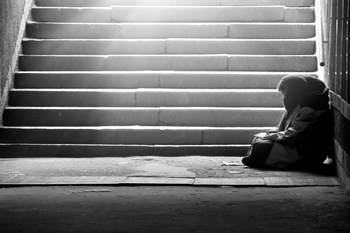 Communities secretary Sajid Javid has confirmed the Government will support a new law imposing new duties on councils to stop people ending up on the streets.
If the private member's bill becomes law, it will place a duty on local authorities to help eligible people at risk of homelessness to secure accommodation 56 days before they are threatened with eviction and provide a further 56 days to help to find a home.
Announcing the Government's support of the Homelessness Reduction Bill, put forward by Conservative MP Bob Blackman, Mr Javid said: 'No one should have to sleep rough on the streets.
'We want to build a country that works for everyone, not just the privileged few. That's why we are determined to do all we can to help those who lose their homes and provide them with the support they need to get their lives back on track.'
However, councils say they need more resources to end homelessness and have demanded powers to build more homes.
Local Government Association chairman Lord Porter said: 'Councils want to end homelessness and are already doing everything they can within existing resources to prevent and tackle it.
'However, there is no silver bullet, and councils alone cannot tackle rising homelessness. The causes of homelessness are many and varied and range from financial to social.
'After having worked closely with Bob Blackman, we are confident that the new Bill, if it does go through Parliament, will be in a better place.
'However, it is clear that legislative change alone will not resolve homelessness.
'If we are all to succeed, then all new duties proposed in the Bill will need to be fully funded. Councils need powers to resume our role as a major builder of affordable homes.'
For more on the Homelessness Reduction Bill from Bob Blackman MP visit The MJ (£).