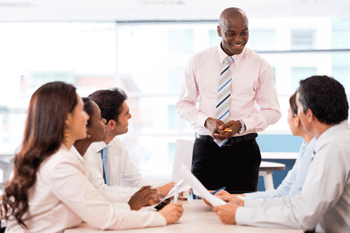 In the current climate, where the competition for talent is fierce, the last thing any public sector organisation wants is its people with real leadership potential leaving because they haven't been spotted or developed. But how can you tell if someone has the makings of a future leader?
A psychometric assessment, called The High Potential Trait Indicator (HPTI) for leadership potential, has proven to be a powerful answer to this question. In the past year alone, over 12,122 HPTI assessments have been completed.
The HPTI works by assessing an individual against a set of personality traits which are scientifically proven to be the key ingredients found in effective leaders. Each trait is stable and consistent across career spans. In other words the HPTI is not only useful for assessing established managers, it will also identify leaders early on in their careers.
The Traits
According to the HPTI, successful leaders have 'optimal' levels of six traits:
Conscientiousness – this is someone's self-motivation and drive to achieve. People who rate as highly conscientious are focused on goals and how to reach them.
Adjustment – being able to cope with high levels of stress is a useful trait as a leader. People with a high adjustment score are calm under pressure and suffer fewer feelings of stress and worry.
Curiosity – successful leaders are curious. They like novelty, learning and variety; they're open to new things.
Risk approach – this is how willing someone is to confront and solve difficult situations. Those with a higher risk approach tend to be proactive in dealing with problems; they're comfortable having challenging conversations.
Ambiguity – many people like situations where there are clear-cut answers to things and the environment is stable. However, good leaders typically have a high ambiguity acceptance. They thrive on uncertainty and complexity.
Competitiveness – this is important, but in moderation. Leaders tend to have higher competitiveness scores – they enjoy positions of power, influence and recognition.
The HPTI is a valuable tool for spotting potential leaders and developing current ones; it helps pinpoint strengths and areas of focus. However, good leaders also constantly develop and are self-aware, which is where a number of other assessments come into play.
Wiltshire Council
For instance, Wiltshire Council is taking an innovative approach to staff development by introducing the use of psychometric assessments into its leadership and management programmes.
The assessments its deploying include the Personal Profile Analysis (PPA), which provides an insight into how people behave at work, and Trait Emotional Intelligence Questionnaire (TEIQue), which assesses how well people understand and manage their emotions.
'We continue to be impressed with the accuracy of the profile reports. Staff constantly feedback to us on how well the reports capture their key behavioural traits and characteristics. The use of Thomas psychometric tools is now a key part of the selection process for anyone joining the Council at manager or head of service level.'
Is this approach proving effective? Ms Vanderpump believes so: 'We have recently undertaken a transformation of our adult social care service and 90% of those promoted into more senior roles had taken the Thomas assessments as part of our leadership programme. For me, that shows a very clear link between the assessments and success as those candidates are demonstrating the skills required to be a good manager and leader.'
Wiltshire Council's experience shows the real mix of things which need to be considered when identifying and developing leaders. It's not just a question of spotting people with the right leadership traits. It's also about knowing how to develop them, making them self-aware so that they will progress and equipping them to work well with colleagues and teams.
While it's not a simple process, the good news is that people assessments have a powerful role to play in all of this.
Jayson Darby is head of psychology at Thomas International