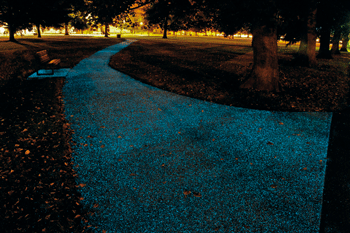 It sounds like science fiction: a path storing energy from sunlight and emitting a shimmering glow at night to guide walkers and cyclists.
However, Cambridge City Council is experiencing this luminescent innovation first hand in a local trial. Developers Pro-Teq Surfacing (UK) Ltd approached the town hall in September, offering the council an upgrade to its open spaces and a potential alternative to costly illumination and streetlights.
Starpath is a liquid based spray, added on top of a crack-filling coating. The aggregate material absorbs and stores energy from UV rays during the day and releases the energy at night, allowing its particles to glow.
For a winter trial of the product, Cambridge selected a 150m pathway in Christ's Pieces park. Recognised as a dimly lit route supporting high pedestrian traffic, the site is being monitored to assess the product's luminosity, alongside environmental and social benefits.
Declan O'Halloran, technical officer at Cambridge, suggests the local authority was an ideal candidate to test Starpath. 'If it is a product that works, it could benefit the city massively,' he says.
'Cambridge is famed for bringing the countryside into the city centre; it's more like a countryside market town.
'What goes with common land is minimal infrastructure. If we were to spend the money on putting in lighting then that could be considerably more expensive. Cambridge is a great place to explore something different.'
Measurements will assess whether the surface can generate sufficient energy to aid visibility and increase feelings of security in park users. If results are successful, the town hall has made clear it could employ Starpath in more of the city's open spaces.
Owner of Pro-Teq Surfacing (UK) Ltd, Hamish Scott, emphasises Starpath doesn't need to have a particularly sunny day to collect sufficient UV, glowing for around 16 hours.
'There's no light pollution from the product, which people are very favourable towards,' he says. 'It's not bright, shining in your face.'
'You know exactly where you're going on the pathway, so you'll see people walking towards you and around you. You're not feeling like you're on a closed dark space.'
While keen for illumination to benefit members of the community using the park, O'Halloran affirms the importance of maintaining the existing atmosphere of Christ's Pieces.
'This is a very prestigious park in the city centre. We are not after a stream of luminescent light under our feet. We are looking for something that has features that stand out beyond a normal path and people instinctively respond to.'
Charities have also voiced interest about Starpath, eager to ascertain the potential social benefits which it could offer. 'We are keen for partially sighted people to benefit,' O'Halloran says. 'Imagine walking through a dark space: one where the path is lit and delineated is far better than one that isn't.'
Interest will be high surrounding the result of the Cambridge trials. What can be certain is the debate about night-time illumination has reached a new – stellar – height