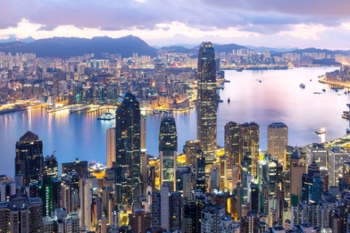 Funding of £30.7m will be provided to councils to support new arrivals from Hong Kong.
The Government has launched an integration programme for Hong Kong citizens following the introduction of a new visa enabling them to live in the UK for up to five years and apply for permanent residency.
The visa came into force in January, having been announced last year as a response to China's imposition of stringent new security laws in the former British overseas territory.
The programme is designed to help people access housing, work and educational support and 'quickly integrate and contribute to their newfound communities', according to the Ministry of Housing, Communities and Local Government.
So far, 27,000 people have applied for a visa since January and the Government estimates between 123,000 and 153,000 and their dependents will come to the country in the first year.
Communities Secretary Robert Jenrick said: 'This programme will ensure British National (Overseas) status holders and their families have the very best start as soon as they arrive, and support to help them find a home, schools for their children, opportunity and prosperity.
'We are a champion of freedom and democracy and will live up to our responsibilities to the people of Hong Kong, so that these families will come to find the UK a place they can call home.'
The £30.7m fund for councils in England will cover targeted support for new arrivals, including learning English housing costs for those who need it.
Another £5.8m will be provided to devolved administrations in Scotland, Wales and Northern Ireland.
Twelve 'virtual welcome hubs' have also been established around the UK, which will work with local authorities where face-to-face contact is required.