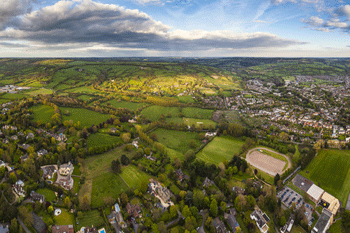 Salford's £30m 'historic' garden has been given the go ahead by the Government after concerns were raised about locating it on the green belt.
Salford City Council's planning panel granted planning permission in principle for the 154-acre RHS Garden Bridgewater last month, but plans had to go before the secretary of state for communities and local government because the site is on the green belt.
'This is fantastic news for the people of Salford and Greater Manchester,' said the city mayor Paul Dennett.
'RHS Garden Bridgewater will not only bring the historic grounds of Worsley New Hall back to life, but will also create jobs and business opportunities for the local area.
'The fifth national garden will be a national and a community asset, a key example of green infrastructure in Greater Manchester, creating a real public amenity within our green-belt.'
Sue Biggs, director general, Royal Horticultural Society (RHS), said: 'We are delighted with this hugely positive news, which will allow us to progress plans for the biggest gardening project in Europe and create our first new garden in 17 years.
'It will be truly unique, unlike any of the other gardens in our portfolio, as it boasts a range of habitats from woods and lakes to streams and meadows.
'This news means we can fully embrace our ambition to create one of the most beautiful and inspiring gardens in Britain.'