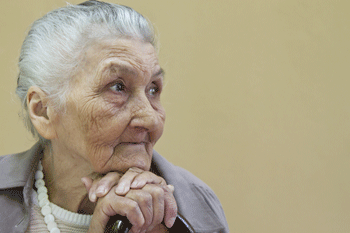 The number of older people living with an unmet care need has risen by nearly 20% in two years, an ageing charity warns.
New analysis from Age UK has found that 1.4 million — or one in seven — older people are not getting the care or support they need.
It also found that more than 300,000 need help with three or more essential everyday tasks, like getting out of bed, going to the toilet or getting dressed.
More than half of these people get no help from paid carers, family members or friends, the charity noted.
'Our new analysis echoes what we hear all round the country: it is getting ever harder to access care if you need it and increasing numbers of frail, ill older people are being left to manage alone,' said Caroline Abrahams, Age UK's charity director.
'If an older person needs social care but can't get it this is a surefire recipe for them to become weaker and less well.
'They are at far greater risk of not eating enough and of falling and hurting themselves because of trying to do more than they really should. And it goes without saying that their lives are likely to be diminished and made more miserable.'
The charity also found that delayed discharges from hospital due to a lack of social care were costing the NHS more than £500 a minute.
Responding to Age UK's findings, Cllr Izzi Seccombe, chairman of the Local Government Association's (LGA) Community Wellbeing Board, warned the trend identified by the charity will 'continue to increase and deepen' unless the sector receives a long-term funding settlement.
'To prevent crises in the NHS, government needs to plug the £3.5bn funding gap facing adult social care by 2025 and reverse the £600m in reductions to councils' public health grants between 2015/16 and 2019/20,' she said.
'But, crucially, we need to address the root causes of ill-health and loss of independence as well as the symptoms of system pressures, such as growing demand on our hospitals. Investment in councils' prevention work in our communities is vital in reducing demands on the NHS and will save money to the public purse.'