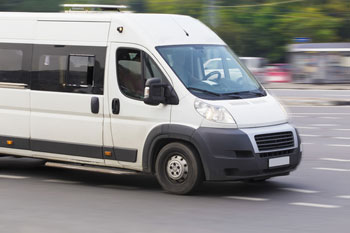 A 'worrying' licensing loophole that allows people to transport members of the public in minibuses without having a criminal record check must be closed, council chiefs urge.
Drivers of Public Carriage Vehicles (PCVs) - those seating between nine and sixteen passengers - are able to obtain licences without going through the same checks as taxi drivers.
This legal loophole means people who have been refused a taxi licence on account of past criminal offences are able to become PVC drivers.
The Local Government Association (LGA) has urged Whitehall to close this loophole and introduce a Taxi Reform Bill.
'The majority of PCV drivers will be people who the public can trust, but this loophole provides an opportunity for unscrupulous drivers to continue to work in close proximity to passengers, even when a council has determined that they are not safe to do so,' said Cllr Simon Blackburn, chair of the LGA's safer and stronger communities board.
'Anyone who books or flags down a standard taxi has the reassurance that all drivers are vetted and licensed by councils. The same safeguarding checks should apply to anyone driving a nine to 16-seat minibus.'
'We are urging the Government to act quickly to address this and bring PCVs into line with other local taxi licensing requirements,' Cllr Blackburn continued.
'Two-and-a-half years after the Law Commission's report into taxi licensing, this issue shows why it is vital that the Government introduces a Taxi Reform Bill to address this and the many other anomalies hindering our taxi licensing system.'