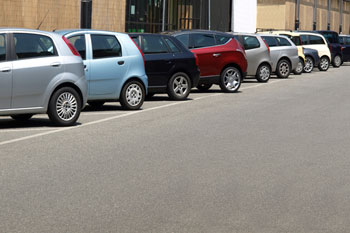 New research has revealed council's parking levy brings in £9m a year, prompting a transport campaign group to recommend other local authorities follow suit.
Nottingham's Workplace Parking Levy has been held up by the Campaign for Better Transport (CBT) as an innovative mechanism for generating income that can be spent on public transport.
Introduced in 2012, the levy is an annual charge paid by employers in the city with more than 10 parking spaces. They pay £334 a year for each space they provide in their workplace car park.
The scheme was criticised in 2013 by Eric Pickles who claimed businesses were passing the costs on to their workers. He also claimed it led to residential areas becoming clogged as employees attempted to avoid the charges.
The annual £9m extra cash from the levy is used, according to CBT, to finance Nottingham's public transport, including new tram lines, electric buses and the regeneration of the railway station.
The campaign group says other cities, such as Oxford and Cambridge, are now considering implementing similar schemes.
Stephen Joseph, chief executive of CBT, said: 'Other countries use a much wider range of means to finance their public transport, especially at local level. If barriers to new funding streams from property and local charging could be removed this could help make new public transport schemes happen.
'Nottingham's workplace parking levy has proved to be a very good way of raising money for public transport improvements, with other cities now looking to replicate its success.'
A spokesperson for Nottingham City Council said: 'Nottingham City Council's Workplace Parking Levy model is one that can be followed by other councils and tailored to fit individual circumstances.
'Other councils can benefit from the lessons we learned and so implementation timescales and costs can be shortened and reduced.'