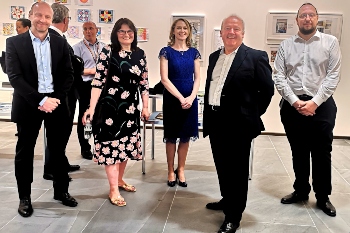 As we emerge from the pandemic, the delivery of genuine social value is arguably of greater importance now to local authorities than ever before. Councils like ours have an opportunity to utilise our contracts with the private sector to positive effect but the challenge can often be how and where to begin.
At Westminster City Council, we have made a commitment to putting inclusion and diversity at the heart of our culture. Our people strategy, The Westminster Way, is based on three fundamental pillars – everyone has talent, everyone is valued, and everyone is a leader. When it comes to adult social care, these statements are particularly pertinent.
According to BASE (The British Association for Supported Employment) only 5.6% of people with a learning disability are in paid work. Data from the Labour Force Survey suggests that just half (53.2%) of people with a physical or mental disability are in employment.
Westminster Employment* is our specialist adult social care and supported employment team that focuses on tackling this issue through engagement with private and third sector partners. In August 2019, they were introduced to the head of social value & inclusion at Durkan, a private housebuilder and contractor.
At the time, Durkan had just begun work on the development of a residential care home and a number of private apartments. As part of this contact, and as you would expect on a project of this nature, they had allocated budget to supporting training and employment. What was unusual, we discovered, was the willingness they had to work in partnership with us to ensure that budget was used to maximum effect.
The construction industry has typically struggled to engage individuals with disabilities, with perceived barriers and hurdles around much of the work being site-based, and yet, conversely, the scale of construction and development projects means that they present a real opportunity for local authorities to improve engagement in this area.
The key to improvement is two-fold. First, it requires employers that are open-minded, flexible and – critically, willing to try something different. It can be challenging to encourage companies to focus on what an individual with disabilities can do, as opposed to what they can't do. Second, it requires specialist knowledge and support for these employers to ensure that roles can be adapted in an appropriate way. The combination of these factors can only be achieved through genuine partnership, and this was fundamental to the model that we have created here.
Westminster Employment* and Durkan worked closely together from the outset. The starting point was a frank and open discussion to address any concerns and barriers to success and develop a flexible and bespoke approach. We were able to provide examples of the sorts of roles that had worked successfully in the past and then, starting with one individual with very complex needs, we were able to explore an office-based role on site.
The process of developing this first suitable, bespoke role was involved and required commitment from both parties. For our part, we provided access to, and a regular presence from, both the individual's keyworker and employment adviser, a profile on their specific abilities and needs, risk assessments and health and safety checks. Durkan maintained an open approach throughout, making adjustments as necessary, and ensuring a warm and welcoming team environment.
For this particular individual, one hour a week of paid employment was the right level for them. The role, environment and location was introduced to them steadily and they were able to support with genuinely and practically helpful tasks, using Grid 3 iPad assistive technology to support communication in the workplace.
While one hour a week may not sound much, the reality is that a paid role provides empowerment and raises self-esteem, and the ability to actively participate in society in a meaningful paid job. The individual concerned has now progressed into a fixed term role with a local special educational needs school, and the school has committed to employing him directly at the end of his initial contract. It is remarkable to say he has a new-found confidence and is actively engaging with the community when just a few years ago he would not leave our hub.
Building on this foundation, a total of five individuals benefited from this pilot project. Each role was different – from a seven hour a week placement for an individual with an acquired brain injury to a five hour a week role for a person who is blind. Three of the roles were at the Durkan site office, with an additional two roles funded by Durkan and based at Action for the Blind and One Westminster. Tasks varied significantly according to individual ability – from data input to co-ordinating site locations, and various adaptations were also required – from changing working hours to avoid rush hour to ensuring the appropriate level of site accessibility.
We worked together throughout, adapting and evolving roles, and maintaining a flexible approach. It is this spirit of genuine collaboration that has created a blueprint that we are already applying elsewhere.
Durkan also wanted to ensure we could continue progress after the pilot concluded. In part, this has involved them leaving a significant legacy fund. This meant that at the very least we could continue to offer paid work placements to the individuals we support, in partnership with the third sector.
But it's already gone beyond that. Together, we are working to educate our other contractor partners and demonstrate how this sort of partnership can and does work. The emphasis is on ensuring our private sector partners are committed to directly employing individuals with disabilities and complex needs. In so doing, they continue to embody the change we have begun and create further examples of what is possible, with a flexible and open-minded approach. There are benefits for all here. Societal barriers are broken down and perceptions challenged, and the value for all involved - employer, employee and society as a whole, is evident.
Cllr Lorraine Dean is Westminster City Council's lead member for SEND and adults with disabilities
Photo, from left to right from Westminster City Council: Chief executive Stuart Love, Cllr Loraine Dean, executive director of adults social care and public health Bernie Flaherty, then Kevin O'Connor, head of social responsibility and inclusion, Durkan and Robert Driver, operations manager, Westminster Employment*