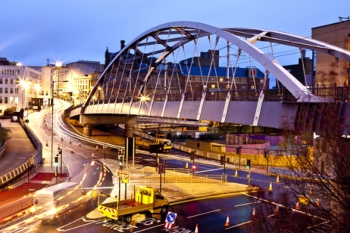 The Government has announced Wolverhampton and Sheffield will be the first two places to benefit from its new regeneration programme.
Announced ahead of the Levelling Up White Paper - expected later this week - the Government has said 20 town and city centres in England will be transformed under the plans.
The 20 areas will be prioritised within the new £1.5bn Brownfield Fund to deliver new homes, jobs and communities.
Seven mayoral combined authorities - West Midlands, Greater Manchester, West Yorkshire, Liverpool, South Yorkshire, North of Tyne, and Tees Valley - will receive £120m of funding to transform derelict brownfield sites and deliver 7,800 new homes. The three mayoral combined authorities in Greater Manchester, Tees Valley and West Midlands will receive a further £30m.
The Government will also announce 13 councils will receive £8m from the Brownfield Land Release Fund to release land for a further 898 homes.
Homes England will be refocused to turbocharge the regeneration of large areas of towns and cities.
Levelling up secretary, Michael Gove, said: 'We are on a mission to regenerate the nation, transforming derelict areas in our towns and cities into thriving places people are proud to live and work in.
We are refocusing Homes England and empowering local leaders to support levelling up, delivering Kings Cross style transformational regeneration projects across the country – starting in Wolverhampton and Sheffield.