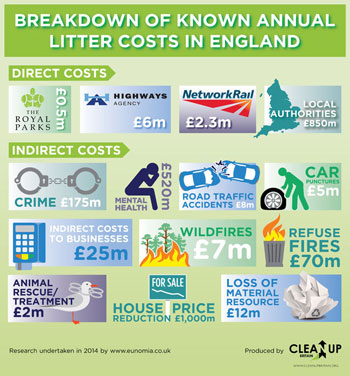 Despite the best of intentions, for too long there have been too many fragmented and insufficiently connected voices lacking critical mass in the fight against litter - that has to change now, if we are to win the war on litter.
We need to reclaim our beautiful country from being submerged in a tsunami of litter and fly-tipping. This will be difficult, but it can and must be done.
Littering in Britain has reached epidemic proportions and is costing at least £1bn a year to clean up, and that – Clean Up Britain (CLUB) estimates – is a considerable underestimate of the true cost. For example, the cost of picking up litter doesn't just stop there - for every £1 spent on clearing litter, councils sometimes pay an additional £10 'coning off'/complying with health and safety requirements. So at a time when many councils are having to deal with very large cuts in their grants from central government, this is a terrible waste of money – and must surely stop.
We need to bring about behavioural change
There is only one sustainable solution to littering - to change the attitudes and behaviour of 48% of the British population (29 million people) who admit to dropping litter. Littering in Britain is now, sadly, a deep-rooted cultural issue, and will take some time to reverse.
In the past, this sort of cultural issue would have been addressed by the government spending millions of pounds on 'public information campaigns' – such as those undertaken for drink-driving, AIDs awareness, seat belts etc. Today, with ever-dwindling funds in central government to do this, we have got to do it ourselves.
We need a national campaign that unites everyone with an interest in fighting litter... councils, companies, public sector agencies, environmental groups, charities, individuals and many more.
In an age when the general public are bombarded by a constant flow of messages - and it is very difficult to cut-through to their consciousness - we must have a national campaign that is of sufficient size and stature to make a lasting, and decisive, impression on millions of people.
This campaign needs to be highly professional, collaborative, coordinated, consistent and capable of being driven centrally, but implemented locally by councils, at very little cost. That's what the CLUB campaign is currently planning. Already, we have gratefully received seed-corn funding from Coca-Cola Enterprises, McDonald's UK and Wrigley – all companies that have an enduring and very commendable commitment to combating litter.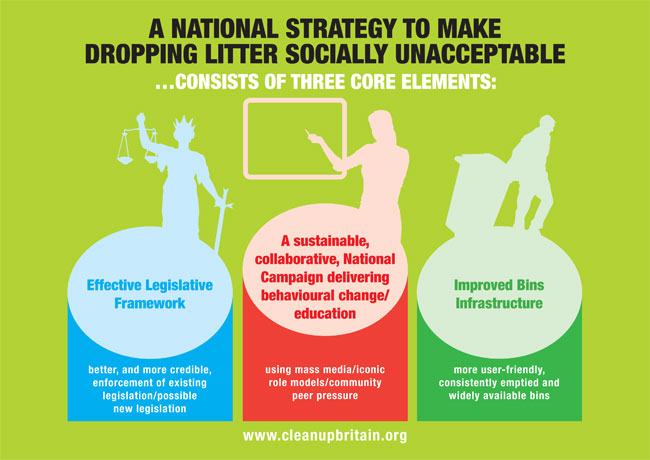 In addition, one of Britain's top three Business Schools, Warwick, has joined the campaign. Warwick Business School (WBS) has the largest Behavioural Insights Institute in Europe, and very extensive and widely-acclaimed expertise in behavioural science. WBS is working with CLUB on a major piece of research to look at a whole range of behavioural science interventions that could be used in the fight against litter.
In addition, we're currently speaking with many companies about joining the campaign, and will be making more announcements about new campaign partners shortly.
In short, we believe that a national strategy to make dropping litter socially unacceptable, has three core elements:
• a sustainable educational/behavioural change campaign
• an effective and credible legislative framework
• improved litter bins infrastructure
The campaign itself needs to be 'top-down' using iconic role models to help deliver key messages, but also 'bottom-up', using local peer pressure and community engagement.
Local councils have a critical role to play in the campaign, delivering key campaign messages locally. We intend to offer campaign collateral (messaging, creative, visuals and editorial) free of charge to councils. Instead of having a proliferation of different anti-litter 'brands' and sometimes slightly different messages pervading, there needs to be a coherent and consistent set of messages unified under one anti-litter campaign (brand) umbrella. In conjunction with other organisations, that is what CLUB is developing, as we work towards a 'hard' (campaign) launch next year.
Let's work together, clean up Britain, and save cash-strapped local authorities - and perhaps most importantly, your local rate-payers – significant sums of money on litter-related costs. It's time for unified and effective action against litter.
John Read is founder-director of Clean Up Britain (@cleanupbritain)