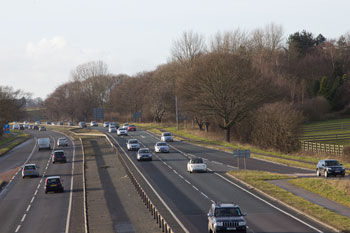 The 28 councils awarded with £275m for local infrastructure projects have today been revealed, with some authorities scooping tens of millions of pounds.
Town halls across England including Newcastle, South Gloucestershire and Devon were today named among the recipients of funding under the Government's Challenge Fund, which is designed to support major one-off projects.
The West Midlands Integrated Transport Authority was awarded almost £40m for a project to renew 211 miles of the West Midlands classified road network, towards which the group will also contribute nearly £5m.
Some £19m was awarded to Slough BC to modernise street lighting across the district, Reading and Wokingham. A local contribution of £8.2m will support installation of 38,651 energy efficient LED lanterns and replacement of 11,323 at risk lighting columns.
Lancashire CC received both £5m for infrastructure maintenance on the M65 and £14.8m for street lighting upgrades from the Department for Transport (DfT), which awarded funding following a local authority bidding process.
The funding confirmed today comes under the £6bn announced in December to improve local roads and tackle potholes over the next six years.
Announcing the allocations, transport secretary Patrick McLoughlin said: 'Good quality local roads are essential for people to get on with their daily business and today's announcement will provide extra capacity where it is needed most.
'This government has put record funding in place for local roads as part of our long-term economic plan to improve journeys, create jobs and drive economic growth.'
Visit Transport Network for a list of Challenge Fund awards in full.